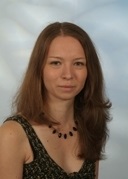 Dr. Mag. pharm. Anna-Maria Winkler
University of Vienna, Faculty of Life Sciences
Department of Pharmaceutical Chemistry
Althanstrasse 14, 2E 357
A-1090 Vienna, Austria
Tel. +43-1-4277-55063
email: anna−maria.winkler@univie.ac.at
Anna-Maria Winkler studied pharmacy at the University of Vienna, where she graduated in 2011. For her diploma thesis she examined the in vitro effect of intravenous immunoglobulines on isolated white blood cells at Baxter Bioscience Vienna.
Anna-Maria Winkler started her PhD thesis at the Department of Medicinal Chemistry in October 2011. She was employed as project co-worker of COMPACT – Collaboration on the Optimisation of Macromolecular Pharmaceutical Access to Cellular Targets, an EU-IMI funded consortium. Her study focuses on oligonucleotide drug delivery systems based on Designed Ankyrin Repeat Proteins (DARPin).
At the 6th of February 2019 she defended her doctorial thesis entitled "Cationic peptide-siRNA nanocomplexes with Designed Ankyrin Repeat Proteins for active receptor targeting".