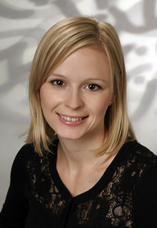 Dr. Mag. pharm. Cornelia Lorenzer
University of Vienna, Faculty of Life Sciences
Department of Pharmaceutical Chemistry
Althanstrasse 14, 2E 359
A-1090 Vienna, Austria
Tel. +43-1-4277-55061
email: cornelia.lorenzer@univie.ac.at
Cornelia Lorenzer finished her studies in pharmacy at the Karl-Franzens-University Graz in 2012. In 2013 she started her PhD studies at the Department of Medicinal Chemistry. She is a project coworker in the research group of Dr. Johannes Winkler. Her PhD project was part of the EU IMI project COMPACT. It was focused on the development and in vitro evaluation of designed ankyrin repeat protein (DARPin) based oligonucleotides delivery systems for tumor targeting.
At the 27th of September 2017 she defended her doctorial thesis entitled "Generation und Evaluation of DARPinsiRNA Bioconjugates for Highly Receptor-specific Targeting" with distinction.